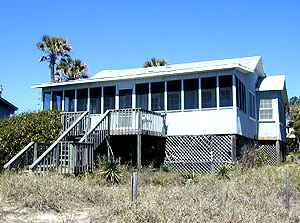 View from the beach, Folly Beach South Carolina. Smiling faces, beautiful places.
The Folly Beach Talk House is a fully renovated 4 bedroom oceanfront vintage beach classic. Built in 1930 and having withstood all that mother nature had to offer, the Folly Beach Talk House offers you an opportunity to experience Folly Beach as it has been for over 75 years. The Folly Beach Talk House is a classic, Lowcountry style beach house located on a quiet cul de sac and on one of the premier lots on Folly Beach. Renovations included refinishing the beautiful heart pine living room flooring, new carpeting throughout the bedrooms, new kitchen appliances and bathroom fixtures, as well as new furniture and window treatments. The screened porch runs the entire length of the house and offers plenty of room for watching children on the beach, eating, reading or hammock napping! As the name implies this is an opportunity to enjoy the ocean tranquility and the conversations and stories that filled our lives. We have supplied plenty of board games, cards and books to keep you entertained and mother nature has supplied the rest! Enjoy! Only 20 minutes from Historic Downtown Charleston, SC!

The Folly Beach Talk House is a 4 bedroom home (2 Queens, one in each large ocean view bedrooms and 4 twins, 2 in each of the smaller oceanfront bedrooms). There is also a sleeper sofa in the living room. The living room floors are vintage heart pine, and the bedrooms are carpeted throughout. There is a full kitchen, separate dining room, and bathroom. There is an outside shower leading up to the front porch. The large screened front porch runs the entire length of the house and overlooks the ocean and miles of beautiful beach. Begin your day with coffee on the porch, watching the shrimpers trawl and dolphins swimming in the surf, smelling the ocean breezes, and listening to muffled crashing waves. End your day relaxed and talking about all the great experiences you had at this delightful place!