(click on this logo to return to home page)

CVRBO
2165 Wappoo Hall Road
Charleston, SC 29412
(843) 762-4099

A) Listing your property with Cvrbo.com is as simple as four easy steps (instructions for each of these steps are included on this page):
First, read our disclaimer.

Then fill out our web form with your property information. The FASTEST way to get your property listed is to fill out the form included on this page, which will automatically be emailed to us (see paragraph B below), but you may print a form and mail or fax us a copy. We'll be happy to mail or fax you a copy of the form if you cannot print it.

Next, send us a check for the appropriate amount (review our rates). Note that only checks should be mailed to our accounting department:
CVRBO
2165 Wappoo Hall Road
Charleston, SC 29412
(843) 762-4099

All pictures, listing specifications and other materials should be sent to our webmaster:

CVRBO
2165 Wappoo Hall Road
Charleston, SC 29412
webmaster@cvrbo.com

Send us your best 3 pictures.
PAYMENT:
Upon your completion of our web form or notification via fax or phone that you want to join Charleston Vacation Rental By Owner's roster of vacation property owners, we will have your listing online within 24 to 48 hours. We are trusting souls, and your promise to pay is sufficient enough for us to get you listed. Payments need to be received no later than 14 days after posting your listing. However, if you'd like to speed up the process, you may click on the "MAKE A PAYMENT" logo below to use our secure online credit card service. We are a proud PayPal online payment affiliate.
B) How to enter text for your listing using our web form (FASTEST and easiest):
There is an example listing on this page for you to use as a model. There is a web form at the very bottom of this page that you simply enter your text into. Each field in the example is numbered with blue numbers. These blue numbers will not be included in your listing and are only present to help you identify which field is which. For example, Field Number 1 is the Title Field (see "Historic Savannah Row Home Overlooking Forsyth Park" below). Please complete all fields. You may use our example here as a guideline for how to describe your property, and take a look at other listings on CVRBO for ideas.

C) Photos:
When we build your listing, we will include up to 3 photos. If you have good quality photos in digital form, you may email them to webmaster@cvrbo.com. If you have prints (glossy prints are best), you may mail them to us at:
2165 Wappoo Hall
Charleston, SC 29412
If you include return postage, we will make every effort to return your photos after we scan them, but we cannot guarantee that you will get them back. We assume no liability for the loss of your photos. We encourage you to include descriptive titles for your photos when you send them in (see example below).
****************************************************************************
THE EXAMPLE LISTING STARTS BELOW AND,
FOLLOWED BY OUR ONLINE FORM FOR YOUR LISTING
Click here if you want to go back to Top of page
****************************************************************************

CVRBO.com ID#2105

Go back to Top (1) Historic Savannah Row Home Overlooking Forsyth Park

(2) Location: Savannah, Historic district, Georgia, USA (Heart of historic Savannah, minutes to Tybee Island)
(3) Accommodations: Condominium (row home) - 1 Bedroom - 1 Bath - (Sleeps 4)

Savannah, Georgia Row House - Vacation Rental Homes
(4) Body text (200 word limit)
Step back in history at One O' One East Gaston Street in this one bedroom condo row home, overlooking 20+ acre Forsyth Park and the start of the renowned Savannah St. Patrick's day parade. Easy walking distance (Top 10 walking city in USA) to a wide variety of tours including architecture, historic churches, cemeteries, 23 town squares, "Midnight in the Garden of Good and Evil."
The condominium is only a block from the locations of Jim Williams Johnny Mercer home as well as Clary's drugstore, both important sites from the book and movie about "Midnight." Enjoy riverboat cruises, fine dining, night life, concerts, outdoor music at the City Market and River Street, and shopping in the premier shops in the "Hostess City."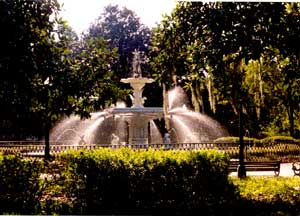 For your convenience, we provide two bicycles to tour the historic district. Park your vehicle in the conveniently located off street site and walk, bike, or travel via horse drawn carriage, tour bus, and pedicab. One O' One East Gaston is not only a major street in the district featuring mid 1800's architecture but is also conveniently located by car to championship golf courses, boat charters, casino's, historic forts, cemeteries, family beaches on Tybee Island, and Hilton Head Island.
Picture - Fountain in Forsyth Park believed largest in USA when unveiled in 1858 - Georgia

(5) Special features of this property: Fireplace, Phone, Air conditioning, Cable TV, VCR, Stereo, Microwave, Dishwasher, Full kitchen, No pets allowed, Linens provided, Cookware and utensils provided, 4 Bicycles, Dedicated off street parking

(6) What to do: Biking, Fishing, Wildlife viewing, Golf, Tennis, Shopping, Swimming, Snorkeling and Diving, Water skiing, Boating, Surfing, Tour the largest (2.2 m.) historic landmark in the USA.


Historic River Street Area - Savannah, Georgia - Vacation Rental Homes

(7) Rates (in US Dollars):
Weekends (2 day minimum) - $280
Weekdays (5 day minimum) - $450
Weekly rental - $675.
Monthly rental quoted upon request.
Deposit - Refundable $200 Deposit required in advance.
Check-in: 3:00 PM. Check-out: 12:00 PM.
Note from CVRBO: Rates may be subject to change without notice.

(8) Availability: Year round

(9) Contact Us: Mention you found us on CVRBO.com
Phone: (864) 878-1571
Email: info@cvrbo.com (we recommend you use our web form below)

END OF EXAMPLE LISTING
****************************************************************************
Property Owners: This is where you enter your listing text.
Questions about the form? Click Here, or call 843-762-4099