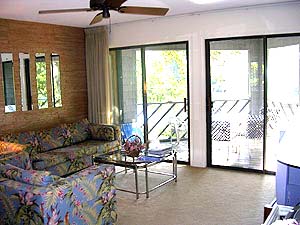 The Living Room leads to a screened porch with a lovely Brown Jordan set of table and four chairs
Our villa is the closest and most private villa in the Tennis Club Area to the beach with the best lagoon view. It is private because there is nothing for quite a distance on the left side of us, and on the right side of our single building of only 4 units, is the pretty footbridge over the big lagoon. All you do to get to the beach is walk over the bridge, turn right, walk a very short distance and you'll see the walkway to the beach, and it is only a 5 minute walk. You can't get much better than that!!!
We have the best lagoon view there is; you look all the way up the lagoon from the dining room, living room, screened porch and master bedroom. The exposure is great! It is always light and cheerful. We are right on the water and you watch the alligators sun on the bank, and swim by, and the beautiful birds and lots of greenery. It is extremely peaceful and quiet. We are a first floor unit and so there are no huge stairs to climb so you don't have to carry your luggage and groceries up a load of stairs like so many villas! We are also convenient to all amenities, and just around the corner from the gorgeous new inn, The Sanctuary.
It is beautifully decorated in pastels, all newly updated and reupholstered. It was recently painted and carpeted and we have our own housekeeper who keeps it immaculate. We limit it to 4 people with a very few exceptions, and that is how we keep our place in such good condition, and our housekeeper happy. There is grass cloth in the living room and halls, and beautiful wallpaper in the kitchen and baths. We have just updated the kitchen with granite counter tops, all stainless appliances and porcelain tile floors, and it looks spectacular. The master bedroom has a dressing room with two sinks and a bath, and a queen bed, and beautiful furniture. It also has two chairs and a table. The second bedroom has two twin beds and a bath, and two chairs and a table. The porch has a lovely Brown Jordan table and chair set. There is a washer and dryer in the laundry room. Both bedrooms have radios, and the living room has cable TV, VCR, and a CD-tape player. Please bring your own music players for use on the beach.