Beachfront - Pelican Watch at Seabrook Island
Just 20 minutes from downtown Charleston, this PRIVATE ISLAND condominium is located just south off Hwy 17.
It is located next door to Kiawah Island.
1 Bedroom - 2 Bath - Sleeps 4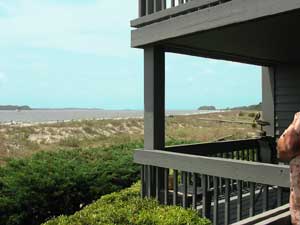 Spectacular beachfront Villa, Pelican Watch, Seabrook Island, SC
This OCEAN FRONT unit is just steps from the beach, with gorgeous sunsets viewed right from your deck! This GROUND FLOOR unit has been totally renovated in the living and bedroom area. Everything is NEW! There are two private golf courses available for use to our renters. There are bike rentals, two swimming pools, along with club fitness facilities. (One pool is heated.) There are a number of great restaurants on the island, as well as many to choose from within 20 minutes of driving. The scenery is gorgeous. Walk at dusk and see the deer. Walk along the beach and see the dolphins within 15 feet of you grazing for fish. This is truly a paradise get-away!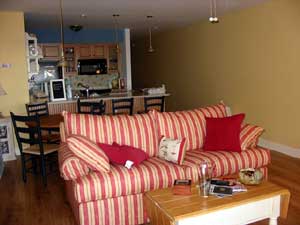 Cozy, spacious great room.
Amenities include: Club facilities are available to our guests with a $150 upgrade fee per week. These amenities include 2 golf courses, 2 pools, club dining and fitness center. There are public golf courses available at Kiawah Island next door as well. The island also offers other restaurant choices, crabbing, boat charters at the marina, and an upscale shopping center.
What to do! Charleston is loaded! Shopping, historical tours, fantastic restaurants, all kinds of marina activities.


Elegant kitchen with all beautiful modern appliances.

Rates:
Jan-Mar $400 per week
April-May $700 per week
May-Sept $850 per week
Oct-Dec $550 per week

Rentals run Sun thru Sat. No Smoking Allowed. No Pets.

Nightly rates considered on individual basis, minimum of 3 nights. These rates do not include Club amenities.

Availability:
Availability confirmed upon request.

Contact Us:
READ CVRBO DISCLAIMER
Please mention you found us on CVRBO.com
Contact: Marianne Hatton
Telephone: 803-413-9986
Email: Click for email

For contact information, we recommend you use our web form below.

Please enter your vacation desires below.
Copyright © 2000-2007 CVRBO.com, All rights reserved.
Revised: July 14, 2010
For web page problems please contact: webmaster@cvrbo.com