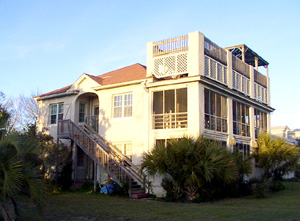 Wonderful Old Island Charm,
Sullivan's Island, SC
Our traditional island home is located just 100 yards from the beach and only 20 minutes from historic Charleston, across the Inland Waterway, on beautiful Sullivan's island, with its semi-tropical terrain, wide, sandy beaches, historic Fort Moultrie, a lively and varied restaurant area, public tennis courts and an old-time playground with grandstand gazebo. Go crabbing, fishing, kayaking, canoeing, windsurfing and sailing in the ocean or in the inlets and creeks leading to the waterway. Explore other nearby islands by bicycle, car or boat.
A very old island, this is the site of novels of many well-known authors: Edgar Allen Poe (The Gold Bug), DuBose Heyward (the Half Pint Flask), Pat Conroy (Prince of Tides), Josephine Humphreys (Fireman's Fair).